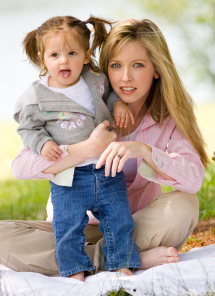 Single parenting is not an easy choice to make. You will have many days where you might not think you can make it. Even though we're glad you chose life, we want to make sure that you are not putting yourself into a stressful and harmful situation. It is important to explore all of your options. Our counselors are ready to assist you in discovering all the support services that exist in our area. We exist to support you throughout your pregnancy and beyond!
EARN WHILE YOU LEARN is a fun, interesting and practical program that can help you learn how to be the best parent you can be. Through regular lessons that include DVD's and worksheets, you will learn valuable and useful information about your pregnancy, your baby, and parenting issues. With each lesson that you complete in our EWYL program, you will earn credits in the form of "Mommy Bucks" and "Daddy Bucks" that you can use to purchase supplies such as diapers, wipes, formula, baby clothes, and other baby items from our boutique. Our staff will design a lesson plan that caters to your specific needs.
Here are some questions to consider about single parenting:
If I can't afford to live on my own, where can I live with my baby? We can help you explore your housing options before you deliver. Most single parents need to work. Consider your childcare options in each situation:
– Living with a friend or relative
– Staying in a group home for single mothers
– Living with your parents or the birthfather's parents
– Finding an apartment in public, subsidized housing
Can anyone help me with baby items, maternity clothes, etc.? Heart Choices has many material resources for you and your baby. We can help you with maternity clothes, baby clothing, child birth and parenting classes, etc.
How do I get support from the father? The father's legal responsibilities include providing financial support for your child. Most states have a child support enforcement agency that will withhold money from his paycheck if he is unwilling to pay. If the father is unable to provide child support, you need to plan how you will care for your baby without him. A birthfather's support record may influence court decisions about custody and visitation rights. You and the father should also discuss your individual rights and responsibilities. A child's needs are best met when you and the father work together.
Can I still choose adoption later if parenting doesn't work out? If single parenting becomes too difficult and you decide to consider adoption, making an adoption plan is still an option. It takes courage to realize that by yourself you cannot provide all that your child needs. But separating from a child with whom you have bonded can be difficult. We will be happy to connect you with several adoption agencies in your area that can help you.
Single Parenting Classes
Several have participated in group parenting classes offered by Heart Choices. "Baby Basics", a six week curriculum on basic baby care and safety, was offered at Cloud County Health Department in Concordia. Topics included Brain Development, Bonding and Attachment, Reducing the Risk of SIDS, Feeding, and How to Calm a Crying Baby. Six young parents-to-be took part in this class.
"Your Growing Baby" meets monthly at Heart Choices and focuses on developmental milestones of the child in the first twelve months. Donise Underhill, Heart Choices volunteer, leads the group in playtime interaction and age appropriate activities to promote healthy growth and development. The "Your Young Child" parenting group is also available, focusing on the one to four year old child.