Heart Choices is a non-profit organization whose purpose is to empower as many individuals as possible in the greater North Central Kansas area to make healthy life choices, related to their sexuality, child-bearing, and parenting, consistent with the sanctity of human life.
We exist to serve women just like you, women who are unprepared for pregnancy and need answers.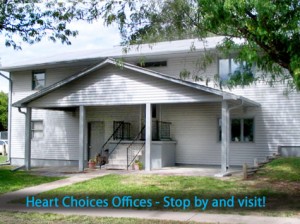 You may be scared. You may be alone. You may have no one you can turn to for help. No matter your situation, an unplanned pregnancy brings many questions and emotions.
We're here to talk to you about your situation, provide accurate information, and help you explore all your options. At our center you will find a friendly, compassionate atmosphere where trained peer counselors provide help and hope for the future.
Everyone needs someone to talk to. We'd love to be that person for you. Call or visit our center.